Expedition Summary
In March 2019, the Arctic Return Expedition will leave Naujaat (Repulse Bay) in Nunavut and embark upon a 650 km trek across Boothia Peninsula to Rae Strait. The route will the same taken by John Rae in 1854 with William Ouligbuck and Thomas Mistegan, his Indigenous companions.
Travelling on skis and snowshoes, the Arctic Return Expedition will pay tribute to, celebrate and honour Rae, one of the greatest explorers who ever lived. Much like Roald Amundsen, Rae's success was due in large part to his willingness to learn from the Indigenous people and culture of the region he explored. Rae travelled with patience, humility, respect and honesty. It was during his 1854 expedition that Rae and his companions discovered the final link to the first navigable Northwest Passage and the most salient facts pertaining to the fate of the failed Franklin expedition.
The Arctic Return expedition will bear witness to a land steeped in history.
Through the expedition, an accompanying book and film, the goal is to raise awareness and appreciation of Rae, his accomplishments, and help raise funds for the restoration and conversion of his family home in Orkney into an interpretive Arctic history centre.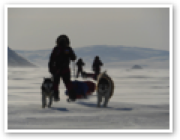 To come following the expedition
Major Sponsors / Partners